Client Feedback
Call Lizzy On 0438587020
See More Clients Via My Active FB Page
Thank you so much Lizzy. As someone who has been so overweight for decades and had dressed for comfort, what fitted or what I could afford. I had no clue what to buy or where to shop. I now feel so much more confident (although still a little weird looking for size 14s!) knowing where to go and what to look for
Andrea S
Meet the very lovely & inspirational Andrea who I had the pleasure of working with during my recent trip to Melbs!!
Thanks for referring her to me Jen Stone
A stunning 'Spicy', we covered her colour/makeup & style session & fitting – this day with me is always the beginning of a woman's significant image & style journey!! And what an incredible journey Andrea has been on losing (to-date) 50kg after gastric bypass surgery early last year – amazing!!
So the past year for Andrea it's been all about work, body/health & image transformation.
I've been really honored to be a part of it & we had a blast on her shopping trip!! There were so many beautiful clothes available to her that she hasn't experienced in 20 years – generally size 14 clothes whoo hoo so exciting
We were treated like loyalty in many of the stores in Eastland – chocolates and water in Blue Illusion – nice!!
I put together a colourful 'Spicy' work capsule with many outfit options that she can easily add to going forward.
But the knockout items were the dresses from City Chic & Sussan – perfect for her colouring, personality current body shape/type/scale/weight & proportions…
Thanks, Andrea, for being a delight to work with & allowing me to show you off, I know you'll inspire many
---
Thank you so much Lizzy for the colour and makeup session! It was such a great experience and you made me feel so welcome
It has really improved my confidence in what I wear! I've already started raving about it to my friends.
Abby M
---
Thank you so much for our colour & makeup session today Lizzy. So much amazing information and lots to think about – thank you also for our virtual swatches they will be so handy for shopping.
Laura and Claire
---
Hi Lizzy,
Thank you so much for a wonderful day (colour & makeup) Aysha & I learned a lot and are grateful for the experience : )
Tayla S
---
Hey Lizzy,
Thanks so much for the colour and style session! I have just cleared half of my wardrobe based on colours and style – very liberating.
Sam J
---
Hi Lizzy,
I really enjoyed the colour & style session, a lot to think about and read through of the notes. Hopefully I can get a bit of fabric shopping done using my swatch while I'm in Tassie!! Look forward to our debrief catch up soon and to see my makeup items.
Jenni
---
Dear Lizzy
Thank you so much for your wonderful support for my shopping adventure – you made it such a delight!
I feel so happy with the new beginnings for the wardrobe and now the chance to enjoy the best of the colour range for me! Including makeup! So good! You are a very talented person in your chosen field – and you work so professionally – such a creative way to support my own creative self!
Thank you over and over.
Love Rosemary A
---
This woman is truly good at her job.
For me, shopping is usually like going to the dentist…. sweaty palms, confusion, wondering if it's wine o'clock yet 🤣, I can't wait for it to be over!
With Lizzy from Lizzy Eden Personal Stylist, it was so much better. I paid her to run around like a mad woman and find clothes that may suit me, that I actually like. (It was fantastic because I didn't have to do that part with her 🤣) She asked me some important questions before hand to help her nail it and we already knew my best colours….
I saved hard for some new clothes and had a couple of vouchers to add, and we both finished the day feeling very pleased with ourselves. I like op shopping, but I get bored with that too 🤷🏽‍♀️
Going out with more confidence in my new
clothing has been very helpful for me personally also.
I would definitely recommend Lizzy for professionalism, value for money and time, understanding the brief of what I was looking for, knowing her craft and what would likely suit me. I actually like shopping more now… but I don't really need anything 🤣
A great idea for a special birthday or gift voucher for someone too! Even if you like shopping, or know what you're doing, you will get some other ideas and possibly find things you would not have found. Thankyou Lizzy 💓
Lyndal N
---
Sometimes shopping can be traumatic. Not with Lizzy! Having her select suitable garments for my shape and colour palette means that I always look and feel confident in my clothes; I also have clothes I wouldn't naturally select which 'surprise' my look – I have learnt so much!
I have now had colour, style and shopping trips with Lizzy over a number of years and it has revolutionised my wardrobe. Thank you, Lizzy, for being so warm and friendly as you teach me how to look and feel my best 😍
Melanie H
---
Hi Lizzy,
Mum really enjoyed her trip with you, thanks so much. You have such a lovely manner, which just made her feel really comfortable. I love the clothes you found for her, they're gorgeous colours! I really appreciate the extra time you spent checking her colouring beforehand. She's learning how to use the virtual swatch so that's great for her to have.
Best wishes,
Lorinda xx
I'm someone who finds it difficult to choose the right clothes. I'm just as likely to return home with nothing. So, imagine my delight when my children gave me a shopping trip with Lizzy as a Mother's Day/birthday gift.
It was a great experience. The colours I should wear were sorted. Lizzy was well prepared and had plenty of clothes organised for me to try. I came home from a really pleasant shopping trip with a special lady and am confidently wearing my mix and match purchases. AND my friends are making positive comments about my new clothes and how well they suit me.
P.S. I'm a young 80+ year old, so it's a great gift for older women too. Thanks again for your help. I 'm sure I'll want to see you again towards the end of the year.
God bless – Coral
---
If any of my gorgeous friends, male or female, want to look and feel amazing, I cannot recommend Lizzy from Lizzy Eden Personal Stylist enough.
From the beginning, I felt that time and money spent with Lizzy was totally worth it when I had my colour & style session with her.
That was my feeling again yesterday, after biting the bullet and spending money on a shopping trip and a new wardrobe.
#simplythebest #lizzyedenpersonalstylist #gratitude
Kylie D
---
Thank you so much Lizzy. I had the best shopping day ever! My second time shopping with you and again, I absolutely loved every piece you picked for me. You totally nailed it and i am so appreciative. You saved me from the dread i used to feel every time i went shopping. I feel so much more confident for when i go it alone. Looking forward to feeling and looking amazing in my new outfits! Until next time.
Anita R
---
My mum and I had our colour sessions with Lizzy and we really loved it! It was so much fun and Lizzy was very informative. She has been so helpful and even did a follow up call after the session.
I'd definitely recommend her professional styling services.
Thank you Lizzy!
Suzanne P
---
I would definitely recommend Lizzy as your personal stylist.. she builds confidence in you as a woman & helps you see the beautiful person you can be. I was lacking in confidence in the way I looked & dressed. I spent way to much time looking in my wardrobe for something to wear. My wardrobe was so full & cluttered with clothes, a lot of them old clothes I've had for years I've passed on 4 garbage bags of clothes & the ones I have left are neatly placed & easily seen.
Lizzy's not a about throwing out all your clothes & buying new but making what you have work. Helping you find the colours & styles that suit you & your body shape & lifestyle. This is so important as I think women often try to copy others & really that doesn't often suit us & our personality. I'm thankful to Lizzy for helping me find myself & what suits me. It's a journey I'm starting & will take some time to learn. But no matter what your age I recommend it's never to late to be beautiful as God intended us to be.
Michelle J
---
There is no doubt that Lizzy is the best Personal Stylist there is! Initially, I had booked my teenage colour/style and etiquette package, and unsure what it was going to be like. However, Lizzy's expertise and knowledge helped me to decide to book her for my formal dress shop and she didn't disappoint. Lizzy built confidence in me as a young woman to be able to shop with my perfectly selected colour palette, with styles suiting my body shape and lifestyle. Knowing my "Exotic" colours and the types of clothing which I should be wearing makes shopping so much more cost effective.
I highly recommend Lizzy for expert advice, as well as value for money and time. Lizzy is up with all clothing trends, no matter what age you are. My experience with Lizzy was enjoyable and fun, making me feel comfortable and confident in myself and my clothing. Thankyou Lizzy
Alyce F
---
Such a sweet and beautiful soul… thank you Lizzy for making me feel so comfortable at my colour analysis appointment with you. Your expertise and professionalism is second to none, I look forward to spending more time learning from you in the future 💞
Linda
---
I had a Style Profile and Wardrobe Overhaul with Lizzy, I could not be happier with how it went, I left feeling so inspired and on such a high! She gave me a fresh approach on wearing my own clothes differently and to compliment my body shape and colourings. I have had so many compliments since my styling session. I could not recommend Lizzy highly enough.
Serena W
---
Love my friend, Lizzy Eden's pre-shopping service, which means she finds suitable items according to size, style, colour & budget and then all you have to do is try on… and love it or leave it! 😏😁👌🏼😍
**Her best tip: when trying on shoes is to look at the shape of your nose and then match to the shape of 👠
My rounded boots were perfect with my rounded button nose 😂😂😅
Lizzy is an image consultant and personal stylist and is truly an expert in her field. Her colour analysis is unique!
Gwen M
---
I was given Lizzy's Gold Package for my 50th birthday and what a fantastic time we had. I learned so much about which colours are flattering for me and Lizzy challenged me to break away from black. I love how I feel in the clothes we bought together and mixing and matching all the different elements of my outfits.
It was a wonderful three days and Lizzy made the journey so comfortable and rewarding. If you want a colour and style rejuvenation, Lizzy is your solution!
Bec F
---
I first visited Lizzy in Adelaide about 4 years ago. I was starting a job new role & had never really been taught about style & fashion. Clothes shopping was normally an overwhelming & frustrating experience. So I took the plunge & treated myself to a colour & style session with Lizzy. Recently, on a visit she made to Melbourne, we caught up again to do a shopping trip (conquering my dredded fear) & bra fitting. Such a fun afternoon out, some great new, fresh wardrobe items (& no wastes of money!), everything looks great on me & now I know why & what to look for. Lizzy offers caring support & makes every person feel great in their own skin. Wish I'd started my learning journey with her as young woman! Highly recommend. Thanks Lizzy!
Jennifer S
---
I had a Colour and Mini Style Profile session with Lizzy which was great. I didn't realise how much of a difference your right colours really make! You feel fantastic ✨️ I also bought one of her Intimo bras and it is so so comfortable! Thank you, Lizzy, for a fun and professional afternoon!
Tash S
---
I really don't know where to start about my fabulous gold package experience with the lovable Lizzy💕
I had always wanted to do something like this and now six years retired (still doing occasional relief teaching) and having survived breast cancer three years ago, I felt it was time (with much encouragement from my husband Robert. Thank you Robert ❤️💕)
The colour day with makeup and bra fitting was enlightening and so interesting. Lizzy is the perfect teacher. It was time to step out of my colour comfort zone!!
The wardrobe overhaul was amazing. I certainly couldn't bring all my clothes to Adelaide, so Lizzy came and joined me at home just outside of Waikerie. Five garbage bags later, destined for the Waikerie Rotary op shop, my wardrobe now looked manageable. I was starting to see the possibilities in my own wardrobe; however, I needed a few extra things, so the shopping trip was next!!
I was so nervous on the shopping day as I had no idea what to expect. Lizzy arrived all smiles and looking gorgeous (as usual) She soon put me at my ease and what a fun (and tiring day) we had👏👏 Lizzy picked pieces I would never look at in a million years. I now have a brighter wardrobe with so many mix and match possibilities. Very exciting. 🌹
Thank you, Lizzy, for an out of this world experience. You are incredibly knowledgeable and passionate about your business, and this translated into a life changing experience for me. Absolutely love your work and I will be back as the seasons and years go on💕❤️
PS: The ladies at David Jones told me, of all the stylists they have, Lizzy is the best and their favorite due to her bubbly personality and her outstanding ability to find just the right clothes for her clients.👏👏👏 I am sure everyone who has worked with her will agree.
Once again Lizzy thank you very much. You're an absolute star🌟🌟
Wendy N
---
Dear Lizzy
Thank you so much for the enjoyable and informative time I spent with you today during my colour analysis session followed by a thorough exploration of my style profile. It is amazing how much we were able to cover in the 6 ½ hour session and such fun. I am so appreciative of your knowledge and the caring and expert way you impart it. Experimenting and choosing correct makeup colours and an expert bra fitting and purchase were an added bonus.
I have returned home with a wealth of resource material that I can review and fully utilise. This will ensure that I can confidently use my 'Dramatic' colour swatches and individualised 'Style File' to review the items in my wardrobe, decide what to keep, how items can work together and inform future shopping expeditions.
I am very much looking forward to our next session when you and I will go through a wardrobe overhaul. Thank you for a great day and I absolutely loved the delicious lunch you made and the home made rocky road for afternoon tea.
I chose you to be my Personal Stylist after undertaking a web search of Personal Stylists working in Adelaide. I was impressed by the look and feel of your website, the range of services you offer, testimonials from other clients and your very reasonable prices. I will certainly highly recommend you to my family and friends.
Warmest wishes
Anita C
---
A friend and I travelled to see Lizzy and had the most amazing day and experience with Lizzy doing out colour analysis & style profile! We learned some very valuable insight and information about our best colours and body shape/style principles. I would definitely recommend the experience. Follow up from her was also a wonderful added bonus.
Juanita J
---
I have known Lizzy since 2014. I booked in with Lizzy for a styling session followed by a shopping trip in December 2022. Lizzy had worked out what styles and colours were suited to my complexion and body type. In the shopping trip, Lizzy had picked out gorgeous outfits for me to try. As a busy professional, I do not have time to go to multiple shopping centres. Lizzy had picked out all the outfits for me already, and I had a great choice. I am really happy with the clothes I bought from the shopping trip.
I highly recommend Lizzy!!!! She is an experienced and talented stylist!
Shoba A
---
Lizzy was very knowledgeable with regards to bra fitting and Intimo products. All products purchased fit well and are very comfortable. Lizzy educated me on what colours look best on me and what colour range is best for me. I am apparently 'cool' which will help me with any future shopping expeditions. I am an 'A' shape on on our shopping trip Lizzy managed to find fabrics with movement that suit my frame. Lizzy's after sales service has been exemplary and I have felt supported all the way.
Leanne A
---
So happy to have found this wonderful woman! Lizzy is like a wardrobe and style fairy godmother. I felt like a million dollars by the end of our time together- she has a knack for finding and bringing out your most amazing self.
We started with a colour and style session, where Lizzy showed me my signature colours, teased out my personality style and physical dimensions. What followed was a walk through 50 pages of style tips specifically tailored to me- best waist heights of pants/skirts, collar shapes, cuts for pants, skirts & dresses.
Then we worked our way through my wardrobe, sorting out what stays & what could be moved on and playing mix and match with all the keep items. We took photos of all the combos so now I have a little wardrobe catalogue of what to wear. AND then Lizzy highlighted the few missing pieces to complete the perfect wardrobe, gave suggestions on where to find them and even sent items that she came across in her travels that she knew would be perfect for me.
The best part- now that I can see everything in my wardrobe, I now wear EVERYTHING and with the new combo's, people think I've got whole new outfits.
I'd highly recommend going through the process with Lizzy… I can see how much it will save moving forward and not being tempted to buy things outside of my style and colour palette. Everything in my wardrobe now matches and feels like me.
Thank you, Lizzy – It was so much fun!
p.s. she even keeps things tidy along the way so you don't end up with a mess of a room by the end of the process.
Juliana P
---
Lizzy Eden is an exceptional stylist who instantly makes you feel comfortable and confident in your own skin. I sought Lizzy's assistance with bra fitting, colour analysis, make up application and style profile, and feel so much more confident with finding what works for me to match my personality and the look I want to achieve – all without putting you out of your comfort zone. What sets her apart from the rest is her follow-up service! She goes out of her way to make sure any of your questions are answered and that your bras fit perfectly (and let me tell you, my 'girls' are looking FAB!). If you're ever in need of a wonderfully kind and professional personal stylist, do yourself a favour and contact Lizzy!
May L
---
Lizzy was absolutely lovely and we had a great time. The personal colour session was really helpful and detailed in many aspects I have never considered before such as personal value contrast and the ideal ratio in colour combination. Highly recommend Lizzy if you want to have a fun experience and leave feeling more confident in finding your best image.
Thao P
---
Thanks to Lizzy for giving me a great colour session which was a birthday gift from hubby. She is so good at what she does and did everything to make me feel so comfortable and relaxed. I highly recommend her for your colour analysis. I now have confidence knowing what to choose when I next go shopping for clothes. I'm excited to be the Exotic colour palette (warm, deep and soft/toasty).
Lizzy went through everything in detail, gave me 20 pages of notes to take home, my own hard copy personalised colour swatch as well as a virtual one – amazing. Thanks Lizzy!
Kim C
---
It has been a DELIGHTFUL experience from start to finish, with 'Lizzy Eden Personal Stylist, Image & Colour Consultant'.
My colour analysis with Lizzy was wonderful! I learnt that I was an Enigmatic colour palette, which gave me the confidence to bring colour into my life & to STOP wearing black. Now I feel as though my clothing reflects who I am inside & out – so refreshing!
Lizzy also colour matched make-up for me and taught me how to wear it with confidence, to bring out my natural features. It is so nice to be able to pop make-up on & know it works for me!
I have always struggled with mixing & matching, particularly in the winter time, because I feel the cold, so I decided to make time for a shopping trip with Lizzy! Lizzy had me complete questionnaires prior to the trip and had me create a thorough wish list for my winter clothing – these tasks were very helpful, as I'd never thought that deeply about shopping, I had more of a 'I guess that will do' approach. The preparation had me excited and hopeful to be warm, layered & matching for the season!
On the day of the shopping trip I was so PLEASED with everything Lizzy picked out for me to try – she had chosen things for me I would've never picked out for myself & I loved them. The clothing was just what I was looking for (had I known 😉)!
Now my wardrobe matches, has colour and I find it a DELIGHT to get dressed to go out – all the frustration has gone!
My family & friends have noticed the difference too – wearing the right colour, and feeling confident in what you're wearing makes a big difference.
Thanks again Lizzy! I HIGHLY recommend your colour analysis, make-up, styling, shopping experience to everyone!
Bec A
---
Lizzy has had a huge impact on my life. I'm overweight, so I've been treated badly in general by the public. However, since I've changed my style, I get treated with a bit more respect and I'm not too scared to go out and about. Socializing with friends is now something I look forward to with confidence and instead of dreading not knowing what to wear.
She taught me what little changes I could make when choosing clothing to enhance my positive features like my face and draw people's eyes away from the less positive features like my belly.
Colours, lengths, cuts, fabrics, jewellery… all little things when combined achieve the results I'm very happy with and never thought possible.
Lizzy educated me and didn't make me feel ugly or horrible. She is sensitive, committed and frankly, I'm amazed I've found someone that genuinely wanted to help me.
She has shown me stores I never in a million years would've thought I could shop there and was so surprised at some of the bargains we picked up along the way.
Shopping isn't a drag anymore and I'm no longer afraid of shopkeepers especially when I'm now armed with the right fashion language so I can communicate with them better. Lizzy has opened my eyes up to a whole new world. She is worth every dollar and more. If you're like me and you are serious about changing your look, then don't delay. Get your life back.
Call Lizzy. I'm glad I did.
Leah.
---
About 18 months ago I had a colour & style session followed by a wardrobe overhaul with Lizzy. This is where Lizzy confirmed I didn't need a shopping trip as I had ample to work with already. Over the several months that followed my wardrobe session I felt to cull more clothes and even managed to sell some. I've also accumulated several new things that I love and loved using my swatch to find them.
Recently I felt to get Lizzy back as I wasn't quite sure how I was feeling about my summer wardrobe in particular. I have several functions and events coming up and I want to look my best. I wanted Lizzy to help me mix & match what I already had and also help me decide whether I needed a shopping trip.
Well, I couldn't believe what we achieved – no need for a shopping trip! I have exactly what I need for every event and occasion coming up. To say we went shopping in my wardrobe is an understatement.
Lizzy came in with fresh eyes and was able to see all the possibilities that I couldn't. I can't believe how my pink and red heels go with nearly everything I own!
I got to see once again the power of my Elegant colour swatch and how mixing & matching starts with colour.
I'm excited once again about my summer wardrobe and knowing I have countless amazing options gives me great peace of mind.
Thanks so much Lizzy, you're worth every cent and every woman needs to see you!
Love Heather.
---
Before my styling session with Lizzy, I was really nervous – I had no idea what to expect. I hadn't been confident in my styling abilities, particularly having had a baby only six months prior and dealing with a body shape I wasn't comfortable in.
I had absolutely no reason to be nervous – Lizzy is one of the most beautiful souls you could ever meet. She immediately put me at ease with her bright, encouraging personality. I put my trust in her to find items that would suit me both in colour and shape, and while I was hesitant about some of the choices before trying them on, I was amazed at how good I felt in them. I didn't intend to buy much on this trip – but I ended up buying pretty well every piece Lizzy recommended!
Spending the time with Lizzy gave me the confidence to wear more colour, gave me a much better indication of the clothing styles I should be wearing, and I left our time together feeling refreshed and so well cared for (something a new mama can often lack feeling!!)
I bought a total of 7 items – two camisoles, a print bomber jacket, a pair of jeans, a long sleeve knit, a pair of shoes and a t-shirt coming to a cost of $140. Each of the items I bought that day have become wardrobe staples ever since.
I cannot thank Lizzy enough for the time we spent together!
---
"Thank you, Lizzy, for your interactive presentation at our Financial Freedom For Women Workshop!
Your tips on how to best present for work/business were fantastic! Your colour choice advice while buying clothes on a budget is essential and was enjoyed by all participants"!
---
Lizzy is an amazing Personal Stylist with a gift of transforming a very messy and ordinary wardrobe to an organised colour-splashed selection of clothes I'm proud and excited to wear. Girls….. who would you invite into your personal space (wardrobe) and trust with your loved and not so loved clothes? Lizzy is a sensitive, polite, kind and very honest, savvy woman who knows her stuff when it comes to colour, body shape and how to bring the best look out in us.
These shoes are amazing!
I can recommend Lizzy with complete confidence. I feel ten years younger for the experience!!
Karen K
---
I had an awesome colour consultation with Lizzy Eden. I found out that I am the "Sophisticated" colour palette, which is a smokey cool-toned palette. I now have this swatch from the session to take with me when I shop. So that I'll never buy clothes in the wrong colour for me again. I can also go through my existing wardrobe and get rid of things that don't work for me. Next comes my style session!

Personal styling is not just for celebrities or the wealthy, it's for everyone! And it's LOTS of fun!!!
I can highly recommend Lizzy, and I've popped the link to her page below. 
Beck Newell.
---
Fantastic Workshop With Lizzy
Ladies if anyone needs help working out the right colours for them or needs help making their wardrobe work please see Lizzy.
She is a miracle worker and amazing at her craft.
Lizzy was over at my place today teaching a group of nine ladies some things about colours, capsule wardrobe and bra fitting.
Soooo much learnt today and I cannot wait to sort out my wardrobe so I feel amazing in what I wear again.
Eve Barylka
---
Flinders Uni Speaking Event
Lizzy has shared her expertise with Flinders students on various occasions. Her interactive sessions are informative, fun, practical and jam-packed with useful information. Students walk away with practical tips on how to put their best foot forward and how to improve the way they present themselves.
Employer Liaison Recruitment Coordinator
Flinders University
---
Flinders Uni Speaking Event
I had Lizzy as a guest speaker at an event I ran for Mature Age University Students, and would absolutely recommend the services offered to everyone!! Lizzy comes with a wealth of knowledge, presented herself beautifully, was incredibly approachable, friendly, professional and made my event an absolute success.
I can't thank you enough for your time and support, Lizzy! Looking forward to utilising your impressive skill set in the near future!! Natasha Malone – Mature Age Officer Flinders Uni SA
---
It was such a privilege to be Jane Reilly's image & style consultant recently…we did colour, style, wardrobe & shopping together.
Thank you Lizzy! I'm so happy with my new relaxed corporate look. Perfect for these cold winter mornings! Having to look smart at 6 am will be a lot easier now!
And the navy jacket was toasty warm this morning.
Not only did I learn so much but we had a lot of laughs too.
Thank you, Jane x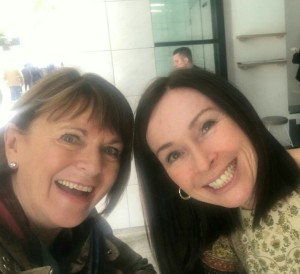 ---
Thank you so much Lizzy.
I had the best shopping day ever. Absolutely loved every piece you picked for me, which made deciding just one a difficult task!
If I'd had an unlimited budget I would have bought everything!
You totally nailed it and I am so appreciative. You saved me from the dread I used to feel every time I went shopping.
I feel so much more confident for when I go it alone!
Thanks for the photos too…
Looking at me in that gorgeous top from 'Forever New' has convinced me it's definitely a must have. I will go back and buy it. The shoes from Sportsgirl too : )
Thanks again for an awesome day and for all your hard work! Anita xx
Some of the new garments I found for the gorgeous Anita (shoes in the dress pic belong to the store) We maintained her relaxed personality style but 'up'd the anti' with some fresh new feminine looks & colour (pink skin enhancers) to really match her soft feminine personality…her hubby loves it!
---
Hi Lizzy,
Thanks heaps for last weeks colour & style session. I loved every minute and learnt so much spending time with you. You are fabulous at what you do!
Thank you too for the delish lunch, and putting up with phone call interruptions from my husband lol!!
Looking forward to seeing you next Wednesday for my wardrobe session and seeing my gorgeous new scarves XX
Anita's wardrobe before (L) & after (R)
Hi Lizzy,
Thanks you heaps for helping me sort through my wardrobe yesterday. It's such a great feeling to know what's left, is what works for me and now I know what I need to buy to fill in the gaps.
I would love some help to do that and will be in touch.
Anita.
---
Desi before
Desi after a 3.5 hour shopping trip.
Hi Lizzy,
Thank you for spending the day with me and all of the work you did in preparation. My brain was a little numb when I got home, you did well to have me focus as long as you did (without the coffee!! 🙂
I can't get over how fresh I look (instead of dowdy). I am going to spend the weekend going through my wardrobe to see what I've got to expand the collection.
There were some pieces that I'm kicking myself for not getting but that's for the next shopping trip.
I'm still very much "like wow"
Many thanks,
---
Lyn came all the way from Alice Springs to see me for her colour & style session & is a gorgeous 'Spicy'!!
'Thanks Anthea for telling be about this & Lizzy. Such a great day! Thanks Lizzy … you are amazing'! Lyn M
---
"Even though I was left with a tiny wardrobe it now feels like I have more options than ever! I feel confident and more current.
As a young CEO with three young children Lizzy had her work cut out for her but managed a good balance between corporate and casual.
I would highly recommend Lizzy to anyone who is time poor!
She has fantastic on trend knowledge and a great eye for value"
Katy Landt
---
A lovely client who flew in from Melbourne to have her 'colour & style' session with me in my updated 'style studio'…what a privilege
Hi Lizzy.
What a fabulous and valuable experience it was coming to see you – worth every cent. You were so professional, welcoming and made me feel really comfortable.
Finally I have advice that makes sense. I understand the 'why' in choosing things that make me look great – not just look great themselves….
Still need to find time to go shopping…but feel much more confident & optimistic about it.
Thanks for the hairdresser info.
Jen.
---
Thank you Lizzy! Absolutely loved having my colours done especially when black came out in my favour! Steph.
---
It's a real compliment when clients send their family members to me…
Thanks Lizzy, I am looking forward to seeing the girls (Katy & Kylie) after you spend time with them for their sessions – colour/style/wardrobe & shopping.
I am having fun wearing all my new clothes.
Have just about worn everything at least once and am now wearing to the office daily!
Regards, Caroline
While Caroline looks great in outfit number 1 (jeans & boots) outfit 2 is a fresh lovely update that suits her colouring, job, life & personality.
---
Text from Kylie…
Hi Lizzy, I think the yellow top & blazer would have to be my favorite. Surprising, as I said on Tuesday yellow is a colour I've never really gone for.
Feeling good, like I can see myself getting a lot of wear out of them : )
Kylie.
---
It's nice to hear when a client is very happy with your service.
Thanks to the lovely Maryse from Chartered Accountants Australia & NZ
'Lizzy provided us with a fantastic option for our 2017 Chartered Accountants Employment Evening. Offering style and body language tips to university graduates entering the workforce. She was very accommodating to our needs, tailoring her offerings to fit in with our industry and corporate event format. She was a hit and surrounded by students all evening! Lizzy provides a great, competitively priced product and I'd definitely utilise her services again.'
Maryse Zanette
Chartered Accountants Australia and New Zealand
https://www.charteredaccountantsanz.com/about-us
---
A lovely testimonial from a gorgeous client…
For Christmas my Mum and I were lucky enough to receive a mini style and colour session with Lizzy. Not only is Lizzy very professional, knowledgeable and passionate, she is also a beautiful woman inside and out. It was an absolute pleasure to spend the day with her, we came away with a wealth of information that we will use every day for a long time to come. We feel confident that we will always be looking our best, and we have Lizzy to thank for that. Thank you so much!!
Tha'is
---
Another fun & successful summer shopping trip at the end of 2016 with a lovely client that comes from NSW to see me.
Thanks Krystel XX
---
A gorgeous 'Zesty' a warm low tint that has brightness!
Hi Lizzy,
Thanks so much. I was actually astounded. I went to my wardrobe and if you take away the black and stark white I've been using for neutrals I actually have a wardrobe full of Zesty! With your tips to put them together I'm going to have some fun. Thanks for the inspiration and talk soon.
Lisa XO
---
The gorgeous Regina in a before (L) & an after shot (R) on a fun shopping trip!!
Hi Lizzy
I just wanted to say a big thank you to you for your time and effort into my whole colour, style and shop experience, I have absolutely loved it. I have now got a whole new outlook on clothes and what is right for me.
I love that you got me out of my comfort zone of my normal black and actually wearing clothes I never would have selected for myself, and the funny thing is I actually feel more comfortable and confident in myself than what I ever did wearing my old wardrobe.
I look at this whole experience as a personal investment as now I'm wiser, and a much smarter shopper, I will be recommending you to all my friends  🙂
Thanks again, you are amazing
Regards
Regina
---
Such a fun shopping trip with the gorgeous Heather from BoxSAlicious
Joy is the Opulent Colour group (warm deep & clear)
Colour analysis with Lizzy was world changing for me. 
The whole experience was extremely liberating. 
I feel empowered to really invest in myself.

I no longer feel any pressure to purchase. 
I never regret saying, "No, it's not for me."
I'm confident with colours that compliment me.
Fashion brings me pleasure and I love what I wear.
It's wonderful to be in control of my wardrobe once again.

Starting everyday with purpose and poise…
Thank you, Lizzy xxxooo
best regards
Joy H
---
Gorgeous colour & style client Emma after my hair stylist changed her hair to a cool blonde from a warm blond to match her cool undertone.
Hi Lizzy,
Would you be available for our shopping day next Sunday, hopefully the weather will be better!!
After my new haircut, which everyone has said is great, I think I will need clothes that are more on the dramatic side – rather than conservative. I am becoming the woman I was always meant to be. How exciting!!!!
Emma.
---
Colour Update For Kylie 5 Years After Her First Colour Analysis…
The stunning Kylie with my 'warm' flag (Left) under her face indicates she is not warm as she appears yellowish…& then with the 'cool' flag (Right) which looks like her as she has a cool undertone which relates to her skin/complexion only. Notice Kylie looks somewhat yellow with the 'warm' flag, & then we notice her 'coolness' shining through with the cool flag which looks like a part of her natural  colouring.
Kylie is my 'Serene' colour palette…a 'cool' smoky muted & grayed down group which is stunning on this coloured person. Kylie has 'cooled' over the years as that is in fact what happens as we age. 5 or 6 years ago Kylie was warm & the 'Intriguing' colour group which is the opposite to the 'Serene'.
Notice how Kylie looks yellow (not good) with the cream verses white cool (stunning)
---
An outfit from Mandy's wardrobe that she decided to keep – new clothes found during our shopping trip together allowed these to be utilized further!!
Hi Lizzy
Thank you so much, my new clothing from our shopping trip is going great which feels really good.
Mandy P.
---
Hi Lizzy
Thanks for your great work on Saturday – it was an enjoyable and very informative afternoon (for mum  Alex & me)
Looking forward to a more colourful future now!
Thanks again
Anna G
---
Di a clolour & style client
Hi Lizzy,
Here's a few photos at last. Hope I'm getting it right!?
Have only spent about $300-$400 (mostly at Rockmans) & feel good about my purchases & getting positive comments back.
Caught Rockmans on good sales days & reckon I have about 20 new pieces. I like their fashion & prices but their pants tend to slip down on me a bit after movement!
A HUGE bag of clothes (mostly black) went to the Op Shop in Strathalbyn!
So I'm moving onwards & upwards I think.
What days ar you in town & where – for a bra fitting?
Catch you sometime soonish my love.
Di from Milang xx
---
Natalie, Colour & Style Client…
Thank you Lizzy for your amazing skills, advice and genuine caring nature. I now have less clothes but somehow so much more to wear. You have made my hectic early mornings so much easier, as I can now get dressed and out the door in a quarter of the time it used to take me. Added bonus – I will no longer waste money on clothes I don't wear and that don't suit me. Instead I can invest in high quality items knowing they will look great and go with everything else in my wardrobe!!!!! You are one in a million!
Natalie.
---
Hi Lizzy
I've now forwarded the attachment of your notes to all the ladies at Awink business group.
Many of the 'Awink' ladies have been in touch to express how much they enjoyed the event.
You certainly packed in a lot of information – Thank you!
We hope to have the pleasure of welcoming you back again on some future occasion.
Warm regards
Helen Louise Williams (Proprietor)
Ladybirds2u | Ironing Angel | Britishmaid
Tel 08 8246 0020  mob 0434 558 468
---
Hello Lizzy,
Thank you for your email and your styling tips at our Awink meeting, I found the session very informative and enjoyable!
Have a lovely weekend,
Jana
Thanks Lizzy for your email and follow up.
It was lovely to meet you at our Awink meeting too. And I'm looking forward to receiving your monthly style tip.
Kind regards,
Kerry Antoniou Director | Principal Lawyer
---
Hey Lizzy,
It was so great to see you over the last few days. I am truly blessed to have been able to get to know you and have you in my life….your energy, knowledge and sparkle always infects me and I love being around you.
I was so lucky to soak up small snippets of you while you were giving Krystel a fantastic weekend of shopping and an understanding the art of clothing and colours. You just nailed her personality and the clothes she bought is a reflection of who she is – classy, fun, 'spicy' and natural.
I love listening to you and lucky for me with Krystel being the same body shape as me, I was able to hear your advice and rules again.
So, I have some questions that came from Krystel's session. As I mentioned, I have been feeling a little board with my clothing, but after seeing Krystel's selection, I am so excited and would love to have that sense of style. I particularly loved the Dangerfield clothing and the Witchery clothes Krystel bought and of course that gorgeous poncho that I bought! I think I need to see you again!!
Sorry for the wordy email…..Just cant stop thinking of all those amazing clothes you and Krystel bought…..gee….sounds like I am an obsessed fan……maybe I am!
Love, Kylie R
---
Hi Lizzy,
I'm sitting in a cafe before a hair appointment with my'style profile' notes you gave me (it's the first time I've had a chance to look at them!)
I'm TOTALLY a 'relaxed' personality when it comes to dressing – pretty much everything rings true for me in that 'type'.
There are a few things in the 'Classic' and 'Creative' styles that apply, but only a few.
It's so good to have so many notes to read through after my experience with you, thank you for the time and effort you put in to preparing them.
Thinking about clothing in this way is totally new to me and it's good to be able to reflect and get my head around the jargon!!
I hope you're having a great day.
Thanks so much!!
Krystel.
---
Two new outfits from Toni's third shopping trip with me!
---
Three gorgeous clients – left to right…a red haired, blonde & brunette!
Krystel: Orange/auburn hair – medium value contrast (medium hair – light skin)
Eva:  Blonde hair – low value contrast (light hair & skin)
Jaquelene: Brunette hair – high value contrast (dark hair & fair skin)
---
Hi Lizzy
Thank you again for speaking today – it was great (which was also reflected in the feedback forms from the group)
Kind regards,
Samantha M – Women's business networking group at Jarmer's Kitchen Bowden SA
---
Another lovely testimonial from a fun & happy client – such a great day with Di doing my colour & style package recently!!
Hi Lizzy,
" What a full & revealing 'colour & style day' I had – plus a lovely, tasty, healthy lunch.
Lizzy you certainly know & love your 'stuff'.
What a thorough 'going over' you gave me with soooo much info imparted.
I've had to rethink lots of the colours I wore which were 'cool' based to the new match of warm 'Zesty', closer to the old ' spring ' colours. No more black for me, but reorientation to dark browns. (Bugga I'd just bought some new black clothes & boots!!)
So with my 'Zesty' colour swatch always in my handbag & armed with mountains of new info re: the best styles for me, I'm giving my wardrobe a gradual 'extreme makeover'. I'm heading in the right direction now.
Compliments coming & feeling grand.
Ta 'Whizzy Lizzy', you're a very stylish girl yourself!
Luv, Di xx ".
---
Thank you again Lizzy for another fantastic shopping trip!  We found so many great pieces, and I've loved getting great comments when I wear them.  I especially appreciate your encouragement to buy pieces that I'd never normally consider – you have a real gift in knowing what works!
Love, Jemma  🙂   May 2016
---
I can't thank you enough Lizzy for your time, energy and amazing talents that you have in selecting clothes for myself. It was a fantastic 3 hours of well researched options, staying focused on achieving the right colours, style, fabrics and flow for myself.
It was money well spent as it has literally saved me many hours of shopping, buying the wrong garments and then not having a theme of mixing and matching. You are a legend Lizzy and I highly recommend a "Shopping with Lizzy day" for everyone.
Love Jackie xx
http://properties4u.com.au/home/
---
Hi Lizzy,
Rosie & Em had a ball & we're all thrilled with our colour analysis sessions that you did for us.
Today I feel GREAT, got it right today! Hair is very ash blonde, deep purple top, pants that show off my ankles (skinny part!) & I feel very comfy – who could ask for more, not me, so thanks you again Lizzy.
I think of you often & will be booking in a another session, maybe a shop!
We will stay in touch, good luck with love, life & career x
Mandy.
---
The gorgeous Mel who owns Step into Life at Mitcham
http://www.stepintolife.com.au/locations/australia/SA/Mitcham/
---
Had a colour analysis done by the lovely Lizzy! She is very knowledgeable and thorough, and I learnt a lot about colour through the process. I love my "sublime" swatch – it's going to make shopping for clothes so much easier! It will help me to choose clothes that will suit me the best and prevent me from wasting money buying items that I'm not going to wear or don't look great. Thanks Lizzy for a fun and informative afternoon!
---
Lovely words of encouragement & appreciation from one of my fav clients after she emailed me her family Christmas newsletter. She also had a 'kick ass' outfit on in one of her family pics she sent through.
Hey Lizzy,
So great to hear back from you!
Thanks for your kind words…
My wardrobe is going great. I still follow my style guide and use my colour swatch and feel good when I shop!
My friend Krystel wants to do a colour/shopping/wardrobe freshen up with you next year. Krystel is my friend who now lives in Sydney. She hasn't bother chasing anyone up in Sydney as I just rave about you so when she visits in May she wants to tee up a time with you.
So glad I found you!
Love, Kylie.
Oh thank you Lizzy.
Although you've armed me with such great advice that I remember very easily I use your knowledge all the time,
thank you! I thought you would approve of the dress and necklace. I found it at one of my fav stores in the Barossa called 'Seasons'. I thought, Lizzy would approve of this dress and necklace haha!
Awesome that Krystel has contacted you – yippee!
Hey Lizzy,
Thanks for your approval. That's why you're sooooo successful – you are so talented and understand how we need to be dressed. I love your reasonings too – it does help re-inforce what we need to be wearing and why.
Thanks Lizzy – hope to see you on a Wednesday some time.
Great that your little family and business is going great.
You're such a special soul!
Love Kylie XX
---
"I remember a quote of Mark Twain – 'Clothes Maketh Thy Man'.
And what better if your clothes & it's style and colour were guided by an expert that changed forever the way you appear both personally and professionally.
Lizzy is an expert who knows how to add the extra flavor to the essence of looking good. Her 'Colour Analysis' is an eye opener.
I would highly recommend all guys out there to give Lizzy's Colour Analysis a try. You would be pleasantly surprised and learn a lot more about looking your best"
Willbur Glenn Colaco
---
Hi Lizzy,
Just letting you know that I still love everything that I bought! I never (ever!) wear black anymore, and I am still getting random compliments!!
I have bought a few new items that I'm happy with – and haven't ended up buying anything that I've later changed my mind on.
I do need more dresses for the warmer weather, will have to book in for a shopping trip soon.
Thanks again, you really changed my outlook on clothes!
Cass

---
Phil Hoffmann Travel Expo Presentation
I first met Lizzy at a Phil Hoffmann tavel expo http://www.pht.com.au/ here in Adelaide where she showed the audience how to pack a cabin bag with a small amount of clothing that would give about 50 different outfits suitable for a cruise holiday.
I was so impressed with the information she presented that I have since had her select the correct colours and style for me. This is something I have wanted to do for some time but have felt intimidated in the past.
With Lizzy's help I have discovered an enthusiasm to clear my wardrobe of clothes that don't suit me and make way for suitable co-ordinate clothing to suit my shape. Next will be a shopping trip with Lizzy to finally sort out my wardrobe!!
I believe in the long run she will save her clients money time and clothing headaches once a clothing capsule has been selected!
Lizzy has a lovely manner, is very professional in her approach, I am comfortable working with her and look forward to the next phase of my journey.
I thoroughly recommend Lizzy to help you with your image journey.
Sue H.
---
Sian from ENVY Jewellery having her colour session done.
Working in our team you get to do amazing things such as the session we had last night with Lizzy Eden from Lizzy Eden Personal Stylist.
Learning about how best to showcase our jewellery as well as learn how best to dress ourselves and our suited colours- was an amazing and educational night.
Thanks Lizzy XX
ENVY Jewellery with Sian Williams
---
Hi Lizzy,
I shouldn't be wishing the time away but I can't wait for our shopping trip.
I am hooked on fashion now. I look at everyone and check out what they are wearing. If I like the look I come home and try it with my clothes. I am having so much fun. I think you have created a "fashion monster". It is all good. You and Adelaide have certainly changed me since I have been here. I arrived a stressed out bundle of nerves. Now I am happy, smiling and enjoying myself and life. I could not wish for anymore.
Thank you Lizzy. You are an angel !!!
Melinda
---
Hi Lizzy,
Thank you for a wonderful day. I love everything I bought. I am having an early dinner so I can go upstairs and try on all my new clothes. Thank you again. I went back to DJ's on the way to the car and bought the maxi dress!!! : )
Melinda Xx
---
Hi Lizzy,
Here is my testimonial, as promised.
I thought about getting in touch with a colour consultant when I stopped colouring my hair and went back to my natural colour which was a lot lighter than it used to be. I finally made that call to Lizzy when a date was set for my wedding and I knew I wanted to find that perfect outfit. I started with a colour consultation and style session and a few weeks later a shopping trip. The whole experience has been one of the best investments I have ever made. I've never been a fan of clothes shopping but now armed with my colour swatch and style profile the whole process is so much more enjoyable and I'm continually adding lovely pieces to my wardrobe. Lizzy is an absolute joy and makes you feel so comfortable throughout the whole process and it really is a life changing experience. And yes Lizzy did find me the most AMAZING outfit to wear at my wedding. Thank you so much Lizzy and look forward to another shopping trip in the future.
Glenys, Mawson Lakes
2015
---
Capsule Wardrobe For A Five Week Holiday
Dear Lizzy,
A belated thank you for all your advice and cheerful culling of my wardrobe.
My sisters and I thoroughly enjoyed the morning and afternoon you spent with us doing our colour analysis. Even though we may not follow the advice 100% we have all commented that it influences the colours we choose.
The days you spent with me sorting and discarding my summer wardrobe was fantastic. It was really useful having someone independent saying yes/ no. I found that since retiring I do not need so many 'work' clothes and your help was invaluable.
Lastly but not least, the way in which you packed for my 5 week trip to South Africa. Everything was used, I did not miss anything. Wonderful.
I enjoyed seeing you at the Zonta women of Achievement function also.
I shall be moving to North Adelaide on Friday and will phone you re an appointment to sort my winter wardrobe.
With good wishes,
Anna – Adelaide East
---
Today I had the privilege once again to talk with a lovely group of ladies on colour & style, and as always it was a lot of fun and they totally blessed me.
Enjoyed Lizzy's second talk on colour and fashion tips at Campbelltown Council this morning. Looking forward to the next one! Thank you Lizzy.
Frances.
---
I spent the day with Lizzy a couple of Friday's ago and we focused on colour and style. Thanks Lizzy! Your warm and personable nature made for a very informative and lovely day. I learnt so much and now have my personalised colour swatch to take with me, firstly to my wardrobe to help sort that out and secondly to the shops. This information alone is gonna save me A LOT of money. And help me to make sense of my wardrobe.
No stone was left unturned as I learnt all the tricks to put it all together in the style section, looking at lifestyle, personality and body shape. AND I got to take all the info home with me, even including tips on what glasses suit, earrings, shoes etc.
BUT the highlight of my day surely was the warmth shown to me – how one woman helping another to put her best foot forward and being pampered with such genuine warm hospitality, being spoilt with home made soup and other tasty homemade treats, really was the cherry on top! Thanks Lizzy… you are the complete real deal.
Jill – Country SA
---
Hi Lizzy
Lizzy, I would like to thank you for helping me with the Colour, Style, Wardrobe Overhaul and Shopping. It has all been a real eye-opener for me. I have learned so much and appreciate the detail in every aspect of these areas of personal style. I could not have learned these things by myself in a million years.
I am looking forward to keeping in touch and receiving feedback from you as I go on my "style journey"!
Thank you so much.
Kind regards
Kathy – Adelaide East
---
Hi Lizzy,
I am writing to thank you for the personal styling session we had in Feb. I was so pleased to acquire several new garments as my wardrobe really needed updating. I just wanted you to know that I have received many compliments whilst wearing these items. I know I would not have purchased some of them had I been shopping alone as I am prone to 'hiding' my figure at times, but I feel so much more confident wearing clothes that accentuate my figure now. It makes me feel more feminine and confident. Also, I was really pleased I did not go over budget; in fact I acquired more items than expected for the money outlaid. In the past I have often bought items which didn't suit and therefore have been a waste of money. I now have the knowledge to purchase items appropriate for my colouring, body shape etc as well as the ability to 'mix and match' items for maximum cost effectiveness. I have been telling my friends all about you.
Karen Smith
---
Hi Lizzy,
Thank you so much for your excellent presentation at our Center on Monday. We all learnt a lot and had fun at the same time.
Have a lovely day and I will look forward to receiving your updates.
Kind Regards,
Julia
Family Work Project Coordinator
---
Hi Lizzy,
Time flies and it is almost Christmas again. I am hoping that you can come out again as part of my 'Joys of Christmas' course to run a session like you did last year on how to dress for your body shape, fashion on a budget and colours that flatter you. The date for the session would be Monday 24 November 2014 from 9.30 to approx 12 noon so I really hope that will work for you.
Can you please get back to me as soon as possible so that I can set things in motion.
I hope that life is treating you well.
Warm Regards,
Julia
Family Work Project Coordinator
---
Hi Lizzy,
It was great having you on Friday, everyone thoroughly enjoyed your presentation. We will definitely have you back next year.
Kind regards,
Deb 2014
---
Hi Lizzy,
Happy New Year! I hope you had a relaxing break. I am currently planning the program for the rest of this year and wondered if you would be available for another information talk on Friday 8 May – this is the Friday before Mothers Day so I thought it would fit in well.
We could either do a repeat of the first session you did for us or maybe you could suggest another topic? The format would be the same as the last session.
Look forward to hearing from you.
Kind regards,
Deb.
---
Hi Lizzy,
I just want to say a huge thank you – you truly are an answer to my prayers. I went on a shopping trip yesterday (after our colour & style session) with a girlfriend and for the first time EVER I came away with 8 pieces I totally adore. When I showed hubby he loved them too! I look forward to showing you some of my purchases on Wednesday!!
Anthea – Adelaide Hills
---
It was a delight to meet and chat with Nikki Parkinson tonight at her book launch for 'Unlock your Style'.
It was lovely to be able to thank her in person for mentioning me in her book as the 'Adelaide stylist to go to' under my former business name Fashion with a Friend.
People have recommended me to her through social media, & that's how l ended up in her book! How cool – so thanks to those wonderful individuals.
I'm looking forward to reading her book.
www.stylingyou.com.au/unlock–your–style/
---
Cass Before Shopping Trip
Cass…'Spicy' colour palette
Cass After Shopping Trip
I had a jam-packed day of colour analysis, style analysis and a complete wardrobe overhaul with Lizzy.
I'm stunned at how much more flattering the right neckline is, and even more stunned with the difference made by just shortening a necklace to the right height.
Then at the end of January, I had an awesome time on a clothes shopping expedition with the fantastic Lizzy. We started with a complete bra fitting (I now have the most comfortable bra ever) and then into every shop in the City, where Lizzy had found flattering items to put aside. I had the complete Julia Roberts experience and all that I needed to do was try and choose which items I could bear to leave behind. I've never worn orange before (rarely strayed from black at work), however now that I do, I'm receiving compliments from strangers and orange has become my first choice when getting ready in the morning.
I got in the lift at work the other day and a random lady that I'd never spoken to admired my orange top and told me it was "so flattering". A few days later I got in the lift again with the same lady (can't remember ever seeing her before last week) and she admired my orange patterned top and said "another great top that suits you". I then told her that I'd come to see you and that Yvonne was trying to get enough people together to set up another info session.
Cheers, Cass Adelelaide Nth
---
Hi Lizzy,
We are doing well. The girls had a blast at their formal and Bonnie got best dressed!! I've attached a photo of the girls in the dresses you chose for them at Afterdark.
My clothes are lovely and getting well worn! Thank you so much for taking us all shopping at short notice. I'll definitely be keeping the colour analysis in mind for next time I'm over.
Thank you again,
Alison Northern SA
---
Thanks to Lizzy Eden for choosing this dress for me. I wore it tonight to the Science Awards. Rachel Sanderson Liberal Member For Adelaide
August 2014
---
Hi Lizzy,
I am very happy with all my purchases and have been getting good use out of them. l have a couple of favourites and also have had lots of complements on how I look.
Thanks again for a great day, Regards Bernie.
Adelaide
---
Hi Lizzy,
I have just come home from buying a new 'after 5' outfit in midnight blue and was thinking of you the entire time! I had literally said to hubby that he had to take a photo when l got your followup message. I feel great and have not even done hair and makeup.
Thanks to you Lizzy my shopping trip was easy. I love all my new clothes! I bought some navy blue ponti pants and have worn them a lot especially with the powder blue cardi and navy blue flats.
After what you did for me (colour analysis, style profile, and wardrobe overhaul) thanks again Lizzy. I learned a lot and just enjoyed your company. I can't believe l use to hate shopping! I'm also begining to hate myself in black! I will be booking another shopping one day – just to catch up : )
Cheers Deb.
Adelaide East
---
Dear Lizzy,
What an amazing shopping trip I had with you last week. I had so much fun and loved your energy, enthusiasm and passion. I also loved your advice and tips while shopping and I feel much more confident shopping for clothes out on my own now. Not that I really need to find more clothes as you found some fantastic items that will suit me all through winter. And together with the clothes that you found during our summer shopping trip, I feel I have a balanced wardrobe, perfect for me.
I loved your wardrobe refresher in the style lounge before we went shopping and it was a great lead up to our hours of shopping ahead.
Lizzy, your passion for your clients really shone through during our shopping trip. You found all of my clothing requests and as I had a long list, I had to extend my shopping time with you. Thank you for being so accommodating and understanding.
My favourite item of clothing was the gorgeous tunic dress from Events. I wore it the next night (over my ponte pants and flats) out to dinner for our wedding anniversary and Tim loved it. I also felt confident and really trendy too. I also loved the paisley pants and cardigan from Katies. I am tempted to buy another pair of pants as I love them so much!!!
Lizzy I feel even more confident now to shop for my body shape and colourings for winter and summer. All thanks to you for your amazing advice, care and passion that you showed towards me. I loved my day with you and I love my new wardrobe!!!
Love, Kylie
Barossa SA
Kylie in three of her new outfits to suit her busy at home mum lifestyle!
---
I just wanted to write and say thank you for an awesome adventure. The whole experience has been a journey that we travelled together, from the colour analysis to the wardrobe audit and styling and finishing with the shopping trip. Your friendly encouragement to try new things, to the gentle prodding that it was time to let some items go and to the finale with the shopping trip.
I feel confident and amazing in the new items we bought together and receive many compliments. Your friendly attitude and disposition helped me through this journey of transformation. I loved that you nailed my personality style of "classic / relaxed", it was spot on and highlighted in the outfits we purchased. I now love and wear everything in my wardrobe.
Thanks again for such a wonderful experience by a very genuine and amazing woman. This "fashion adventure" was definitely undertaken with a 'friend'.
Toni C xxx
Northern Adelaide
---
I highly recommend Lizzy as a warm, genuine and talented Image and Colour Consultant. Lizzy's passion is to see people come alive with their own natural, radiant beauty. From working in a one-on-one consultation to addressing a group of over eighty women Lizzy is able to share her knowledge in the art of styling and colour analysis in a fun, friendly manner. You will never look at colour the same way after meeting Lizzy!
Kathy T
Women@PV
---
After meeting Lizzy to plan an upcoming event I decided to treat myself to one of Lizzy's colour analysis sessions – it was something that I had always thought would be interesting to do – so here was the perfect opportunity.
So… a little self consciously (being sans makeup) we began the "walk with colour".
Lizzy firstly determined that my colouring was cool and then from there we discovered that my ideal colours were in the "Sublime" swatch. How did I know? – they brought out the colours of my eyes and made my skin look fresh and healthy.
The fun part was getting my personalised Colour Swatch – next time I am looking for a special occasion dress or even just a pretty scarf I will be able to make an educated decision and choose from one of the beautiful shades in my swatch.
Lizzy also walked me through a booklet that explained various colour combinations and gave advice on makeup and accessories.
Thank you Lizzy – it was so much fun and I know I will enjoy the freedom that this will give me – not to mention the time and money I will save when shopping."
Love Kathy.
Kathy T
Northern Adelaide
---
Having my Style Profile done by Lizzy has been a fantastic investment. Knowing what clothes and accessories suit me best has given me more confidence with my wardrobe and my ability to put an outfit together. Shopping is also easier & faster as I know what to look for and what to avoid. Lizzy loves her job, knows her stuff and the session itself was fun. Thanks Lizzy for helping me put my best foot forward!
Deb H
Hyde Park SA
---
Just to thank you for yesterday. Hannah and I had a lovely time with you. We both had a quick look at our wardrobes yesterday and decided we had very few items that matched our swatches.
Today I had a look around Target where I thought I could look without being offered unneeded assistance. At first I found it quite difficult to find any matches but gradually I got my eye in and found a few. My colour sense is non existent so it was quite a learning curve. Most of the colours I found were ones that I would not usually have considered. I tried on a lovely blue shirt and a bright yellow tee and a pair of bright brown jeans. I also found a perfect match in a pink scarf, something which I would normally not have chosen but which looked great with my black coat (can't recycle that yet!) Because the quality is not good I just got the shirt and the scarf. When I went home I went more carefully through my clothes and found a good number that fit in with the swatch – hurray! I've put them into colour groups and am currently thinking to send the others to St Vinnie's.
Altogether a successful day. Needless to say most of my current favourite clothes are the ones that match the swatch so I must have been doing something right.
Thank you again for a lovely day.
Regards,
Elizabeth K
Nth Adelaide
---
Lizzy is amazing – she has so much passion and knowledge in the art of colour analysis and styling and shares her knowledge in a relaxed and friendly way. I had such a great session with Lizzy and I love my new colours. Shopping is going to be so much more fun, affordable and quick as I now know what to look for.
Love Kylie Barossa SA
---
Thanks so much for a wonderful shopping experience with you yesterday. I love my new clothes and so does Tim. He especially loves the Sportscraft jacket!
Today I wore my brown shorts and pink Portmans top to the shops (with some novo sandles that I bought last season and forgot about!!!) and I felt really good.
Thanks again Lizzy. You have such a special gift and I am so blessed to have found you.
Love, Kylie M
Barossa
---
Thanks for coming out today and doing your session on colouring and image styling at the Confident Woman Networking and Social group in Mawson Lakes.
The 8 ladies all enjoyed your great presentation in the short one hour session. Loads of usable ideas and information for everyone, no matter who they are or what they do.
We would definitely love you to come back again!
Regards
Sarah Wiegold
Mawson Lakes
---
I have had so many comments on my hair this week – obviously the colours of my new clothes I'm wearing are bringing out the colour. I've been wearing the orange pleather jacket and scarf you chose for me and I'm getting lots of positive comments! So thank you Lizzy!! I now have some confidence! (Amelia is the Rich colour direction which is very warm, medium-deep intensity and medium clear/bright)
Amelia Eagle
Adelaide South
---
Just wanted to thank you again for all your guidance over the past few months. With your help I'm now much more confident, knowing that the colours and styles of clothes I choose are going to help me look my best. You've been so lovely to work with – you made me feel comfortable and have been very patient! The whole process has been challenging but I've learnt so much. I have no hesitations in recommending you – it's definitely a worthwhile investment!
Thanks again, love Jemma 🙂
Adelaide Nth East
---
Thanks for looking after Carmen, she had a wonderful time with you on the shopping trip.
I saw her Sunday and she was in an outfit you chose for her and she looked great!
Thanks for booking a ticket to my Liberal Party breakfast, I look forward to seeing you bright and early. Carmen will also be at breakfast tomorrow.
Best wishes Rachel S X
www.rachelsanderson.com.au
Liberal member for Adelaide
---
Thanks Lizzy you are a legend. Today on our shopping trip you managed to drag me out of my comfort zone successfully. I hope I wasn't too fussy! Let's see what Darren thinks…..
Love Marina xoxox
Adelaide Nth
---
I've been looking for clothes in my 'Spicy' swatch range and found a few. I found some more yellow jeans in target and a red jumper and they looked great together, but the jeans didn't fit very well. So I took a chance and bought the red jumper. You're right the higher neck line makes me look like I have boobs!
On our shopping trip, I'd really like to get some "blonde" coloured boots.
They would go equally well with yellow and mint green jeans!!!
Thanks for all your help with my wardrobe Lizzy – you're fabulous.
Blessings to you 🙂
Marina C Adelaide Nth
---
I tried on a top in Target today in "Custard" of all colours and like wow it was so good. I didn't buy it because it wasn't a good fit, but the colour looked amazing on me, I was very surprised because I've never really liked yellow. It's amazing what the right colours will do for you.
Love Marina C xoxo
Adelaide Nth
---
After losing over 30 kg of weight, I decided to reward myself with getting my colours analysed and my wardrobe overhauled.
I contacted Lizzy after finding her on the internet. She and I were excited about her coming out to the Barossa.
Firstly she came and did my colours. This was such an eye opener. The staple of my wardrobe was Black, black and many shades of black. I had also dabbled in colour, but not necessarily in the correct shade or sharpness. Having my colours done and using the colour swatches when shopping, has really changed my shopping choices.
During the wardrobe overhaul we went through every clothing item I owned. In doing this we determined my shape and how to dress for my shape. Doing this allowed me to feel more confident with my choices. We tried on every item of clothing I had. We took photos of the outfits
that suited my shape and looked great.
The photos reinforced what styles suited me. I'm now so much more confident in putting my outfits together. We basically 'shopped my wardrobe', and the 5 big bags of clothes, scarves & shoes that we managed to shed from my wardrobe can now be either sold or donated.
While Lizzy was at my place we also did a bra fitting. She brought with her a variety of bra's and sizes and did a professional bra fitting – so much I wasn't aware of when choosing a bra. All sorted now!
Since having Lizzy come out, I have only wore black for gym training and working in the garden. I have had so many comments about my clothing combinations & style as well as my weight loss. I'm so happy I decided to invest in getting my colour analysis, style & wardrobe overhaul. I have so much more confidence and I'm more comfortable that my clothing choices will be correct and suit me.
Thanks Lizzy.
Carol K.
Greenock SA
Carol had me come and combine multiple outfits with what she already had in her large current wardrobe. We used her new personalised colour swatch (Exotic direction – Warm, deep and soft) to help us combine the best colour schemes for her. This meant we went shopping in her own wardrobe – ultimately saving her time and money, but best of all a shopping trip that was not necessary!
---
Still loving my colour swatch Lizzy! (Sublime direction – Cool, light and soft) Get so many more compliments on what I am wearing now!! Thanks again!! X
Estelle Pentland owner of Daughters of Eve Exclusive Lingerie
www.daughtersofeve.com.au
---
In July 2012 I decided to get my colours done by Lizzie. She identified the best colours (Enigmatic colour direction) for me and then did a wardrobe audit which greatly helped.
In FEB 2013 I booked a styling session and this was a worthwhile exprience as often I would buy clothes not fully knowing whether an item really suited me.
Since the styling session Lizzie has again helped me to understand my new styling plan and to make better shopping choices.
I feel I now have some valuable tools to assist me to shop smarter in our busy lives! Thanks Lizzie for your time and assistance.
Mary
Adelaide
---
Retail Staff Colour Training
It was a great night of colour training and I have had very positive feed back from the girls so far. They are excited about the prospects for themselves and the customer – it really has them thinking and trying to decipher the colour training handouts you gave them, well done. The girls are also looking forward to the image/style training in July, very timely – just before my next buying session.
Keep up the great work,
Take care, Sue.
Susanne Bailey
Owner, director and buyer of…
www.countrylife.net.au
www.wildsalt.com.au
www.theblokeshop.com.au
---
Chloe's Colour Analysis – Spicy Colour Direction – warm, soft and light/toasty.
Here are my photos from today's exciting colour analysis with Lizzy Eden 🙂 After a thorough step-by-step process determining my correct colour direction it was found that I am 'Spicy!' I am warm, not cool, and I suit earthy, warm, slightly 'toasted' colours in various shades like coral, teal, burgundy, ivory and charcoal!
The bottom photo shows my skin enhancing colours! No makeup and no spray tan is required for an accurate colour analysis result. Lizzy determines your colour group depending on the undertone of your skin, your eye and hair colour and personality! I have learnt so much from this colour analysis and definitely recommend Lizzy to everyone 😀 Black heart (cards) This colour analysis was so much fun and full of so much useful information 😀
Chloe Smith
www.makeupaddiction.com.au
Adelaide Makeup Artist
---
Thankyou for your 'monthly style tip' newsletter. Lots of good stuff and I look forward to getting them!
Ever since I had my colour analysis and retail shopping trip with you I've been able to go straight to my colours (swatch in hand just to be sure).
Once I am in the right colour section then I can focus on the cut and shape and whether it suits me or not…
Recently I went for a trip to Perth, 2 days and nights carry on luggage.
It was amazing how I could take so few clothes and yet I had so many different changes.
Being summer and casual this is all I took…
1 pair sandals (neutral colours) 1 flats in my hair colour
1 full length skirt and pair of cargo's in one of my earthy green colours
1 pair bone ¾ pants
Earthy brown coloured cardi for evenings
1 blouse that went with all the above
1 oyster and 1 navy cami
Scarf and beads in my orange tones highlight colours
And toenails that went with everything!
It was so light I was sure I must have left something at home, but had a different combo every time I went out. If I had needed something more flashy for evening I would have taken some light heels and maybe worn a black singlet with the skirt and some night bling…
Anyway, mwah and thanks so much.
Love Mandy.
P.S It was so exciting and helpful to choose my wedding dress using my personalized colour swatch (Enigmatic colour direction – Warm, deep and smokey) to match a favorite green to my eye colour! Thanks for your styling tips during our shopping trip that also made it easy to choose my dress.
Mandy F
Clovally PK
---
Choosing Correct Hair Colour With Your Colour Swatch!
Your a genius! After our colour analysis I went to Woolies and bought the 7N hair colour like you suggested and coloured my hair myself! I'm so happy with it, it looks so much better and is perfect for my 'Intriguing' colour palette!
I look forward to my wardrobe overhaul with you on Saturday and our exciting shopping trip on the 6th December!
Sarah G
Adelaide South
---
Thank you so much for our colour session today! I'm aware that I took you way over time so I really appreciate that I wasn't rushed out of the door! Your warm, friendly and unhurried expert advice made our session a thoroughly enjoyable process and it's given me my exciting new colour direction to experiment with. Love all the colours, and I especially love that orange!!! I look forward to a shopping trip with you at some point in the future.
Ingrid G
Adelaide East
Choosing Correct Hair Colour With Your Colour Swatch!
---
Lizzy is an amazing Stylist!
She has the ability to be friendly, firm, fashionable and fantastic when it comes to revamping your wardrobe!
Seriously…women really do need to invest in experienced and professional advice. For less than most would think… you can have a wardrobe that changes from a dread to open…to a great and much loved collection.
Self esteem is increased if we feel good on the inside and out. Lizzy is sensitive to what each individual needs.
I can honestly recommend this great lady and her specialized help to every woman in Adelaide.
Karen K 🙂
Nth East Adelaide
---
Packing for my trip to Canberra was an absolute breeze because I used my colour swatch. My husband asked me three times if that was all I was taking!! So I'm really pleased I had my colours done and shopping has also been so much easier. Now I just need to set up a time for the next session.
Leanne C
Adelaide Nth
---
Dear Marliss,
Lovely to meet you this morning.
Don't forget to get in touch with Lizzy when you get back from Brisbane, she can come to you if it suits, and as I said, she is fabulous…I highly recommend her if you are looking for a new styling direction.
Sincerely
Yolanda del Valle-Buetefuer
Adelaide Nth
Salon de Jeni
www.salondejeni.com.au
---
Laurence's Colour Analysis – Elegant Colour Direction – cool, soft and medium-dark.
Thank you so much for doing my colour analysis today. I learnt so much and can't wait to go shopping again. 🙂 To anyone thinking about getting it done, DO IT!!! It's worth every penny and Lizzy Eden is an absolute gem. Below is me with my skin, eyes and hair enhancing colours from my 'Elegant colour swatch'.
Thank you Lizzy.
Laurence C
Adelaide East
---
Loved our shopping trip and colour analysis session. I have came away with resources and information about my 'Intriguing' colour swatch that I can use to buy clothes that actually suit me. Great value and something I will use every time I shop for clothes, shoes, make up, nail polish, jewellery – even down to my hair colour!
Thanks so much Lizzy.
Joyleen K
Lockston SA
---
After I saw Imogen in Melbourne a few years ago and got my colour swatch, one of my friends kept saying she would like a stylist also. I said that you were here so she keeps saying she would like to see you. She was saying how she would like to get her clothes sorted for next term. I have recommended you to her of course! Thank you very much for putting so much work and thought into my wardrobe overhaul and new clothes.
Kind regards
Barbara T Adelaide
---
Nicole's Colour Direction – Dramatic – Cool and deep.
Thanks for a wonderful Colour Analysis Session Lizzy! I am looking forward to your visit to Skin Things on 30th May 2012 to speak with our clients. What a treat 🙂
Nicole Hepple May 2012
www.skinthings.com.au
---
Having my colour swatch has been very helpful. I always have it in my handbag and pull it out to check colours when I'm looking at clothes. I'll never go back to guesswork again. Thank you!
Lyndal N
Adelaide Sth
Lyndal is warm in her colouring and the Exotic colour direction. This first pic is a range of cool colours to compare the difference between cool and warm (the second image) The cool drape is draining Lyndal of colour, and the warm option harmonizes and matches with her natural colouring. This brings the focus to her face – which is the goal with colour analysis. The last two are the exotic flag (one of nine warm colour groups) I used to determine the best colour direction for lovely Lyndal.
---
20 YEARS OF CLOTHES CULLED! What's for dinner ?
What shall I wear today? Two questions that at times can put a chill in any woman's heart. Recently, I decided to do something about one of them, to make my life that bit easier. I did a wardrobe session with Lizzy and managed to cull 20 years of wardrobe hording and numerous fashion errors ( that seemed like a good idea at the time, know the ones I mean!). It felt wonderful to be free of all clutter in my wardrobe and to get some terrific advice on styling direction that suited my life style and budget. We followed the session up with a shopping expedition where Lizzy had already gone ahead of me and had everything I needed to see organised . I have never had such a stress free and fun shopping spree!
Now when I get up in the morning and open my wardrobe, it's not with a sense of dread-with incredible ease I am able to put together an outfit that I know looks good and hence I feel good too.
---
Claire W. Kingswood SA
---
Stylist For Sydney Street Boutique Event
Hi Lizzy,
I just wanted to thank you again for your efforts today. I was really impressed with how you adapted to our culture and worked with our customers. As I said earlier, you dealt with three of the toughest customers we have – so that means everyone else should have been a breeze. I think the experiment worked well and I am very interested to hear your feedback.
Hi Lizzy,
Well done again and thanks for really listening to how we wanted this to unfold and actually delivering your advice accordingly. It was a pleasure to have you join our team for a day.
Thanks
Brett P
Sydney Street Burnside Village
http://www.sydneystreet.com.au/
Sydney Street Burnside Village
---
Many thanks again Lizzy!
Colour my world…
I always love to hear what Lizzy has to say. She knows how to dress your body shape, has a deep understanding to create a style that suits your lifestyle and delivers results. Wherever I go I receive great compliments on a weekly basis on how good I look with my new style and my new colours!
TOP two pics are of Helen before our shopping trip, and BELOW two are of Helen after our shopping trip.
I'm hooked on Lizzy!
Until next time
Helen K
West Adelaide
Bartercard member
---
---
---
$600 made on E-bay!
Thank you so much Lizzy for such an amazing experience. From the colour analysis & body shape session to getting rid of nearly everything in my wardrobe (which I managed to make over $600.00 by selling on Ebay). I had the best time and learnt a great deal about myself along the way. The icing on the cake was the shopping trip. Five hours went far too quickly, but in that time managed to buy quite a number of clothes and learn some valuable lessons in fashion. I can't wait to show off all my new clothes to my family and friends. I will definitely be booking another shopping trip with you next season.
Cheers, Kristi-Lee S
Barossa Valley
---
Thanks for another very successful and fun shopping day Lizzy. I'm very happy with all the purchases. I did buy the Sportscraft dress, 3 pairs of shoes-nude colours, like you suggested (from Mackenzies) and a pair of leggings (from French Connection) at Burnside this afternoon.Thanks again.
Janet L-M Perth
---
Dressing well has less to do with spending lots of money and more to do with understanding what suits you – Lizzy Eden can show you how.
Dressing well has less to do with spending lots of money and more to do with understanding what suits you – Lizzy Eden can show you how. In her styling sessions, Lizzy explains and demonstrates the principles of the effect of colour and shows you the colour combinations that work the best for you. She will teach you about your body shape and show you a range of styles that compliment your figure.
Lizzy helped me to choose clothes to suit my personality, life style and budget that compliment my current wardrobe. She put together winning combinations that look fantastic and make me feel really good about myself. I now feel confident in selecting clothing that suit me, that look great and that I feel comfortable with.
Thank you Lizzy for your inspiration in making my wardrobe work for me and for helping me to be a confident dresser. I can highly recommend styling sessions with Lizzy.
Jane B.
Kingswood SA
---
I had a great afternoon mixing and matching clothing, shoes and accessories from my wardrobe. I learnt what colours suit me and what styles suits my body shape. We had a good clean out of my wardrobe and took lots of photos of outfits which saves valuable time in the morning working out what to wear. I also have a list of what to add to my wardrobe and look forward to doing this again every six months to keep up to date.
Best wishes Rachel Sanderson.
Rachel's Model Management and Training www.rachels.com.au
---
Thanks Lizzy for a fun, fantastic day! It was great the way you were able to help me determine my general style, body shape and the colours that best suit me. It was also wonderful to have you then go through my wardrobe with me and help me decide what to keep and what to give away! The best part though was then going shopping together for new clothes, and starting to put into practice what you'd been teaching and showing me. I am extremely happy with my purchases, and you helped me to understand why some of the clothes worked and looked great, and why others didn't! With your advice and assistance, I was able to buy everything I needed as well as some extra pieces, know that each item I bought looks great on me and still stay within budget. Even better have been the many positive comments and compliments I've received whenever I've worn the outfits we bought that day! I also feel more confident now and better equipped to go shopping for clothes on my own.
Thanks again Lizzy!
Carey Hauri– Life Coach
---
Thanks again for all your effort : sorting out my wardrobe and the shopping trip experience. I enjoyed our sessions and time went far too quickly! As I said to you on the phone, it has been an education not just a fun thing to do. Now I know what colours and styles suit my body shape it has made shopping for clothes much easier. I can just zero in on the clothes that suit me and disregard the rest.
I've had some nice compliments from friends on some of the clothes I bought on our shopping trip and look forward to one day working with you again. Meanwhile I will spread the word about your service Lizzy. Please feel free to use this email as a testimonial for promoting your service.
With warm regards,
Maria E.
Beaumont
---
Lizzy is an enthusiastic stylist. She has a good sense of colour and shape. Lizzy listens to the client and is very helpful in making good clothing choices, therefore meeting the needs of the client. As someone who wanted expert advice in buying clothes, I felt encouraged by Lizzy's approach and my confidence was boosted significantly. Lizzy makes her clients feel important and special!
Jane
Crafers SA
---
Thank you so much for Saturday.
I really enjoyed the shopping trip and found it very helpful for future shopping. I am very happy with my purchases and wore the dress on Saturday evening!
Geraldine SA
---
Thanks for such a great day yesterday and for a successful shopping trip and educational adventure for how to best be dressed.
I showed my Mum the clothes today and she said they are fantastic!
I'm very happy. I hope more people share the great service you have to offer.
It was great spending the time with you yesterday.
Love Lana K
SA April 2011
---
Thank you so much for sharing with my sister and myself your skills in "colouring" us. We had a great session with you and learned so much. We have become so much more confident in what coloured clothing to wear, and shopping is now so much more simple. We now just head straight to the colours that we know look great on us. We highly recommend Lizzie as a stylist and colour expert. Thanks also for the accessories and make up tips.
Gratefully yours,
Liz and Marilyn