Last post I discussed a challenging dressing dilemma from someone who loves to read my column. Kerry shared the following issue with us…"my problem is my love handles or muffin top. It gets me down a bit and I never feel like I look great in my clothes because of this. I think according to your tips and advice I'm an '8' shape, hence the 'high wide hip' under a very defined waist".
I suggested four great starting points for Kerry that can make a difference to this particular body variation.
1. Comfortable shape-wear that flattens and smooths out the 'love handles' which creates the 'muffin top look'.
2. If you can't stand the feeling of control wear, tanks or camisoles will be the next best thing.
3. Avoid tops of low quality fabrics that are thin and cling to this challenging body area which will only emphasis it more.
4. High waisted jeans can be your answer to the 'muffin top' as they can sit above this area tucking you in beautifully.
The 'muffin top' is exceptionally common among the 'H' shape woman and probably due to the shorter waist. Any body proportion that is short, or shorter than the head length (we're meant to be 8 head lengths throughout our body) for perfect length proportions) will often be prone to weight gain in that particular area – i.e An 'A' shape person easily gains weight in the low hip/top thigh area as this proportion is generally quite short. But a 'muffin top' can be an issue for '8's like our reader, 'V's, 'A's and 'X' shapes.
Let's study three more styling and dressing tips for this all too common body challenge.
5. Trouser jeans with a flat wide elastic waistband can work like magic for someone with a muffin top – it needs to be mid to high rise however, otherwise you're back to where you started. They're clutter free without belt loops, zips, buttons and stitching and sit smoothly over this area helping to minimize it very well.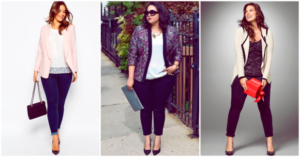 6. Layering is another fab option for hiding your 'muffin top'! Once again, consider a soft chiffon blouse, top or shirt left untucked under a loose fitting but structured blazer/jacket with soft tailoring through the waist for shape. This is often better than cardigans of fine stretchy knits such jersey as they tend to cling – even slightly.
7. Make sure your garments skim while fitting well rather than too tight or too loose – this will always leave you feeling leaner and lighter in problem areas such as the high hip 'muffin top'. This is crucial for someone with this challenge who consistently feels physically, ill fitted, uncomfortable, restricted and awkward in her clothes.
As seen in The Weekender Herald http://www.weekenderherald.com.au/